Pleasant Manor Expansion Project
November 7, 2023
Construction is officially underway!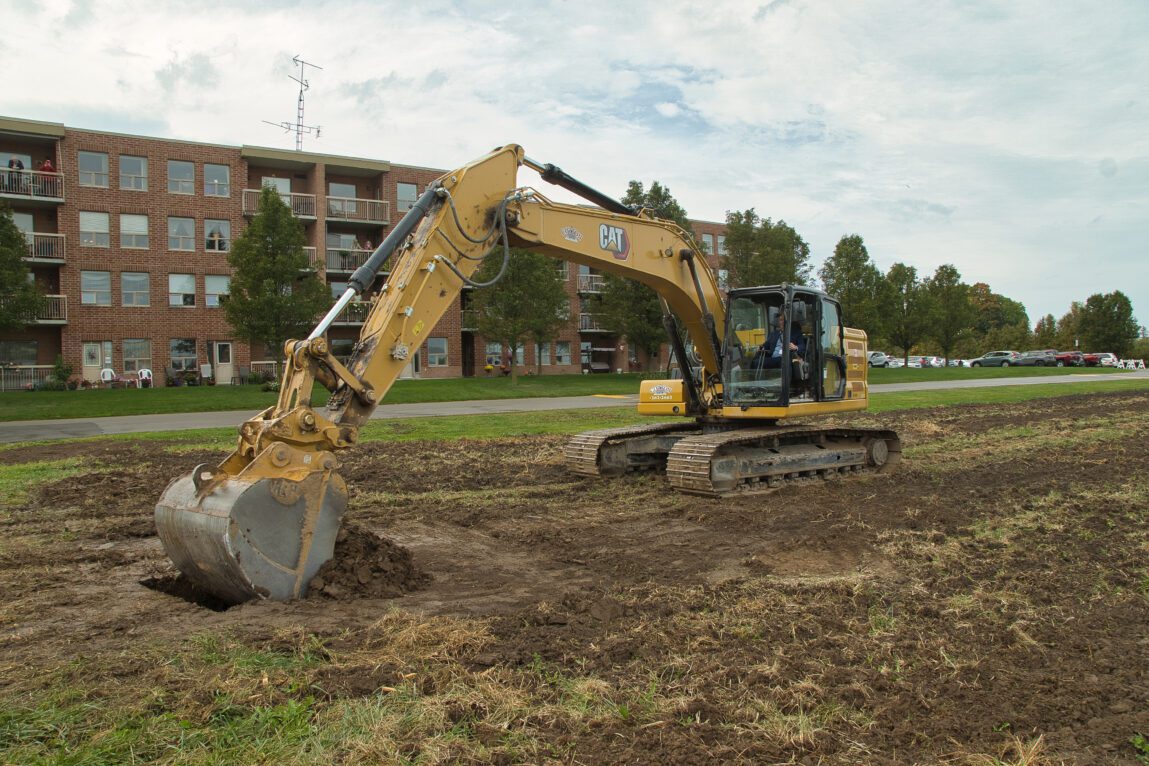 Construction is officially underway for the new Long-Term Care Home at Pleasant Manor. This home is one of sixty-seven Long-Term Care home projects fast-tracked this fall with support from the Ontario government's increased construction funding subsidy. This is part of the Ontario government's commitment to build more than 58,000 new and upgraded long-term care beds across the province. They are fixing Long-Term Care to ensure Ontario's seniors get the quality of care and quality of life they need and deserve, both now and in the future. The plan is built on four pillars: staffing and care; quality and enforcement; building modern, safe and comfortable homes; and connecting seniors with faster, more convenient access to the services they need.
The new facility is being built on the same site as the existing home and will provide 119 new and forty-one upgraded beds as well as more than 200 local jobs. The anticipated completion date is fall 2025 and the modernized building will feature design improvements including larger resident common areas and air conditioning throughout the home.
A groundbreaking ceremony was hosted on October 20 at the Pleasant Manor site with approximately 200 attendees, including a number of dignitaries.
"Congratulations to Radiant Care Pleasant Manor on their ground-breaking for an expanded, new home. Our government is fixing long-term care and ensuring we build homes for seniors in the communities they helped build. Today marks a significant milestone for Niagara. When construction is complete, 160 residents will have a modern and comfortable place to call home." ~ Stan Cho, Miniter of Long-Term Care
"Having participated in the bed expansion announcement for Radiant Care in December 2020, I congratulate the leadership team, frontline staff and residents of Pleasant Manor on the groundbreaking today of their new 160-bed facility in Niagara-on-the-Lake." ~ Sam Oosterhoff, MPP Niagara West
Lord Mayor Gary Zalepa said Pleasant Manor is an important part of the town and has played a vital role in allowing local seniors to "remain in the community they love so much. There's no doubt Niagara-on-the-Lake has one of the largest segments of an aging demographic in the province of Ontario."
Tim Siemens, CEO, advised that the project has been an "evolving story" for 25 years, and that the new building, to be constructed behind the current 41-bed site on a former peach orchard, will serve "today's and future needs for seniors."
"This is a milestone event for the Niagara-on-the-Lake community and for our home. We thank the provincial government for their support for this project. We look forward with great anticipation to welcoming 119 new residents to our home in 2025 and providing 200 plus new jobs to the local economy." ~ Glen Unruh, President, Board of Directors