New 160-Bed Long-Term Care Project Approved for Pleasant Manor
We are excited to announce that the Ontario Ministry of Long-Term Care has awarded Pleasant Manor an additional 38 bed licences in support of our project to redevelop and build a new 160 bed long-term care home at our Pleasant Manor site!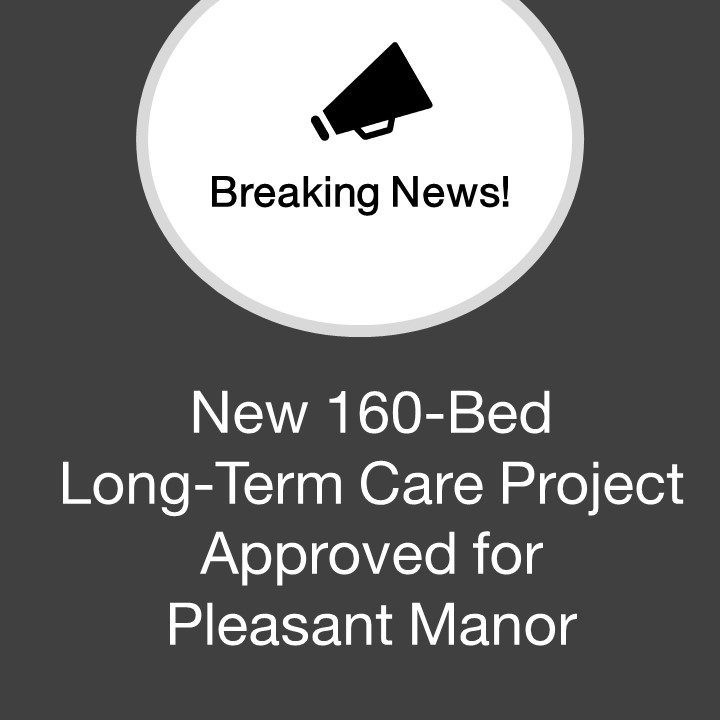 Radiant Care Pleasant Manor in Niagara-on-the-Lake/Virgil was delighted to receive word from the Ontario Government this morning (November 20, 2020) that construction of our new 160-bed long-term care home has been approved. Pleasant Manor already operates 41 licensed beds, was allocated an additional 81 beds in 2018 and has now been approved for a further 38 beds, bringing the total to 160. The site for the new building, which is right next to the existing building, is owned by Pleasant Manor and current zoning authorizes the construction and operation of a long-term care home. Financing is also in place.
The new home will be part of a campus of care that will provide health and social services to seniors living on site and from the community-at-large.
Tim Siemens, CEO of Radiant Care, said "We have been waiting for this day for a long time. The building that houses the Pleasant Manor long-term care home was built in 1994. It needs to be redeveloped and we asked the government for additional beds to help Niagara Region respond to the current and projected demand for long-term care beds. We are truly grateful to the Government of Ontario and to the Minister and Ministry of Long-Term Care for giving us the go-ahead to this important project"
"The fact that we have waited this long for a decision on the allocation of the final 38 beds has also given us time to prepare. We have instructed our architect to complete the working drawings for a 160 bed home and our intent is to start construction as quickly as possible. We will bring the new building on stream as soon as we possibly can — and it's going to be a beauty", said Glen Unruh, Radiant Care's Board President.
Pleasant Manor and Tabor Manor, operated under the Radiant Care brand name (www.radiantcare.net), are not-for-profit organizations and are registered charities under the Income Tax Act (Canada). Radiant Care provides accommodation and care to seniors on campuses in Niagara-on-the-Lake/Virgil and St. Catharines.