Inspiring each other, it's a beautiful thing!
Though our social circles have been very limited for the past few months, our tenants continue to find ways to encourage and inspire one another. It's a beautiful thing!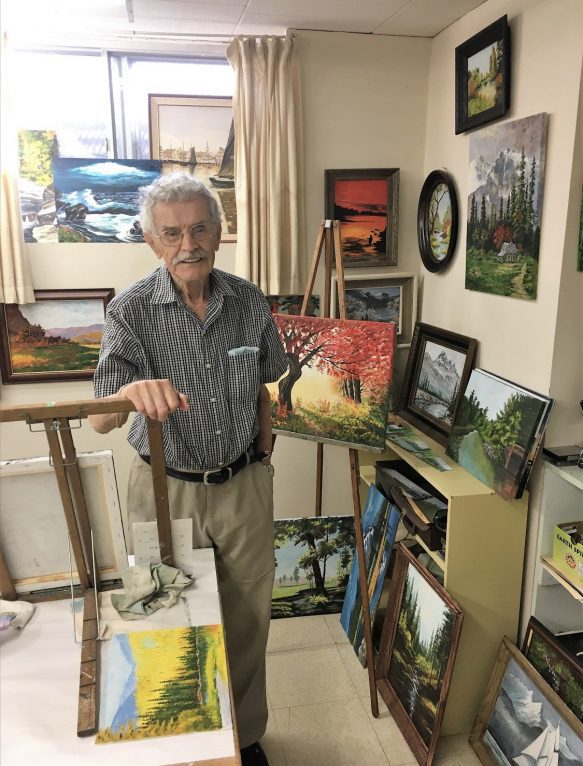 Tabor Manor tenants Menno Kroeker and Walter Klassen have been avid painters for decades so naturally they have found themselves spending extra time in the art workshop at Tabor Manor over the past few months. But that's not all they are doing!
When Menno found himself running out of space for all the new paintings he had done, he set up a stand to give paintings away for free to our hard working staff. There was a lot of excitement that day!
Menno and Walter both love painting but they also have a desire to share their passion and their gifts with others. During the pandemic, fellow tenant Rodney Loewen began painting under the mentorship of Menno and Walter. Rodney regularly displays his artwork on his apartment door along with a Bible verse to encourage passersby. Rodney says, "I am just doing what I can to try to bless others."
Walter also taught his daughter, Joy Klassen, how to paint and Joy is now a second generation of gifted painters at Tabor Manor. Walter and Menno hope to have the opportunity to instruct many more interested pupils in the days ahead.
These are just a few of the people and stories that make Radiant Care such a warm and loving community!